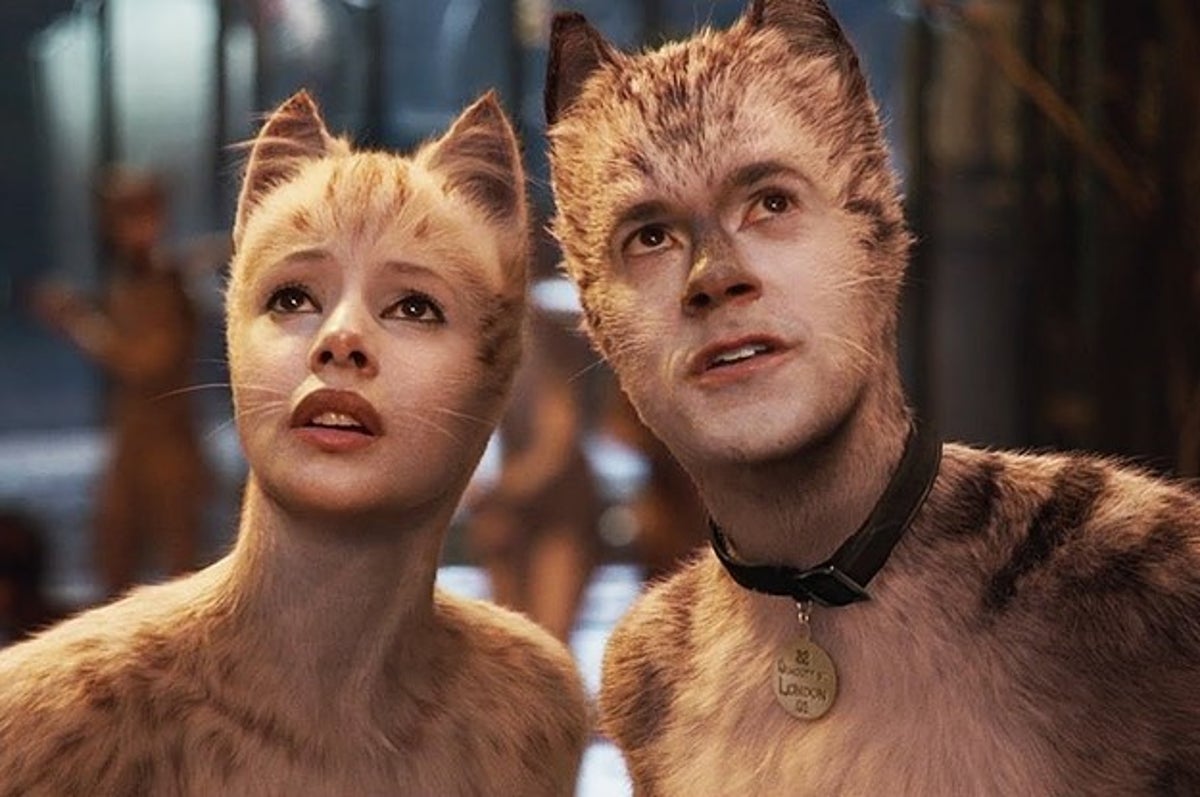 I've yet to see the cinematic adaptation of Andrew Lloyd Webber's "Cats." Based on reactions from that first trailer and onward, I've been avoiding it. But now I might go check out the feline fetish flick that made Boston Globe film critic Ty Burr write, "I'd pay to unsee it."
The reason? The critical and box office bomb has become something of an immersive joke, akin to Paul Verhoeven's pole-dance disaster, "Showgirls" from back in 1995, which audiences came to adore as a garish train wreck.
Riding that wave, the Somerville Theatre has begun audience participation screenings (officially, the late-night Friday and Saturday shows, according to Facebook) with hooting and jeering not only okay, but encouraged.
"It started from the first few screenings," theater manager Ian Judge said. "Once the word got out that something was horrendously wrong with the movie in terms of it just being so bad, so odd, so unsettling in its half-assed effects, so jumbled in plot and such a bizarre mix of stars and talents, people came in large numbers out of a curiosity."
Raucous audience reactions didn't sit well with everyone. "We had to issue free passes to a couple of patrons," Judge said – leading to the more formal embrace of its lameness.
To get an idea of how bad "Cats" is, it's a $95 million film that made only $6.6 million in its opening weekend, something a limited, arthouse release would be excited about but a death knell for a big-budget production. By comparison, "Star Wars: The Rise of Skywalker" made $177 million in its first days of wide release. On IMDB, "Cats" has a filmgoer rating of 2.8, which is lower than most films made by Steve Bannon (which I had the pleasure to research for the recent run of "American Dharma"). "Showgirls" has an IMDB rating of 4.8.
The film is directed by Tom Hooper, who has such Academy-recognized films in his pocket as "The King's Speech" (2010) and "The Danish Girl" (2015), and it stars Taylor Swift, Judi Dench, Jennifer Hudson and Rebel Wilson. But it came under scrutiny as soon as its trailer release, with the poor quality and weirdness of its special effects going tsunami viral. An animated or live-action capture film from Pixar or James Cameron takes about four-plus years of visual rendering; the makers of "Cats" did theirs in seven months. The result was so shoddy and uneven that people began hunting immediately for weird and inconsistent fur patterns, bizarre genitalia and butt sculpting, not to mention creepy, monkey-like prehensile tails and scenes in which dame Dench's human hand, replete with wedding band, showed up. (The studio has reedited and rereleased the film.)
As with classic midnight film "The Rocky Horror Picture Show," people come to "Cats" dressed up – in cat ears and more. Judge suspects the legalization of recreational marijuana may be aiding in audience appreciation. And did I mention that the Somerville Theatre sells beer and wine? Belly up to the bar and get your best caterwaul on.
The "Cats" screenings with audience participation take place at 9:45 p.m. Friday and Saturday at the Somerville Theatre, 55 Davis Square. General admission is $11.