By Tom Meek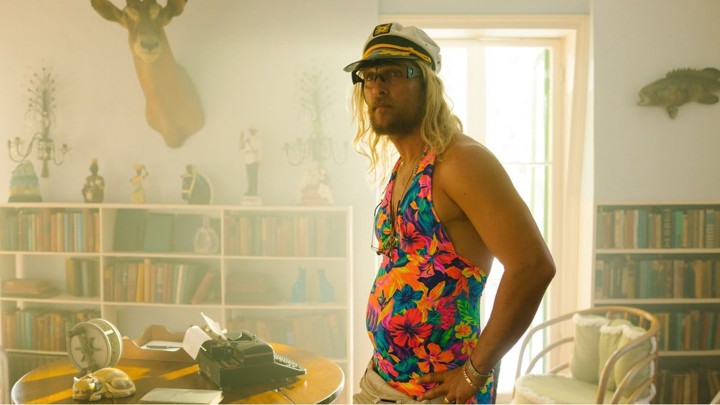 Harmony Korine, the wunderkind (as screenwriter) behind Larry Clark's dark and disturbing 1995 chronicle of bad adolescent behavior, "Kids," has been a dicey go when working the camera. An experimental filmmaker who's pushed the boundaries of sex, sexual violence and despair, his work is often critically hailed but financially anemic. His first film, "Gummo" (1997), about white trash eccentrics in a depressed Ohio township, cost more than $1 million to make and grossed about $20,000. "Mr. Lonely" (2007) about celebrity impersonators in Paris, ran $9 million to put together and grossed less than $250,000. Not great math, but
"Spring Breakers"
 – his 2013 Day-Glo crossover starring Selena Gomez and Vanessa Hudgens as coeds turned boat-running perps – crushed it both at the box office and with the critics. So what could go wrong with a return to sun-soaked Florida, a big-name cast and some gonzo high times? Well, sharks for one, and a muddled vape waft of a plot for two.
If you're a fan of Matthew McConaughey's eternal high school hound-dog in Richard Linklater's brilliant 1993 teen comedy, "Dazed and Confused," "The Beach Bum" will be something of a treat; he plays the maturation of that delusional soul, a party-every-day stoner named Moondog, a once-was poet famous enough to take the mic from Jimmy Buffett at a gig. Moondog hangs in the Keys, lounging on a houseboat named "Well Hung," drinking PBRs and banging on bongo drums accompanied by buxom, naked females. It's something of a cross between "Waterworld" and a Goya painting. But Moondog, it turns out, is a family man with a wife and daughter up in Miami. Baby girl is getting married to a guy Moondog refers to, even at the ceremony, as "Limp Dick." 
Moondog's wife Minnie (Isla Fisher) is loaded and lives in a seaside manse replete with infinity pools and more house staff than Tony Montana. She's also got her own side distraction with longtime family friend and rap mogul (or maybe more of a drug dealer?) named Lingerie (Snoop Dogg, who owns every scene with aplomb). When Moondog shows up drunk in a skiff at the dock, he and Minnie immediately down a few cocktails; as she receives a poolside pedicure from an away-glancing pedicurist, Moondog performs oral sex on her. For such eccentric hedonists, their daughter Heather (Stefania LaVie Owen, who ever seems on the verge of cracking up at McConaughey's goofy Moondog hijinks) is exceptionally well adjusted, aside from her choice of spouse – he's simple a generic 9-to-5 wonk, not suited for this family by any means.
Not to give too much away, but the film could be subtitled, "A Wedding, a Funeral and a Book." The big win to the film besides McConaughey, who has to power it along and does so with lecherous, avuncular charm, is the utterly inspired casting. I mean, there's a duet between Jimmy Buffett and Snoop Dogg; Zac Efron shows up and smashes a wheelchair-bound elder over the head with a whiskey bottle – Korine must have some kind of vendetta against "High School Musical" – and Jonah Hill emulates the accentuated Southern twang of Strother Martin as Moondog's money-grubbing agent. Then there's Martin Lawrence as Captain Wack, who likes to wake and bake (his parrot needs a few lines of toot to get up and going as well) and take unwary tourists out on dolphin tours. That's where the film jumps the shark, or I should say a shark jumps unnecessarily into the film. It's a near fatal stroke, but nothing McConaughey's Moondog can't fix with a giant blunt, a bottle of booze and some bad prose. Any decent prose that flows from Moondog is borrowed from the greats, though. The one poem we get that's heralded by mucky-mucks is about appreciating the prowess of one's penis to do it twice a day. 
It might be too harsh to call "Beach Bum" a spectacle of excess, the way that maybe "Fear and Loathing in Las Vegas" (1998) or "Candy" (1968) were, but it's listing in that direction. Overall the film doesn't have the biting edge of "Spring Breakers," but if you have a taste for Korine's raucous rambling skids through the highs and lows of society (think "Gummo" or "Trash Humpers") this is the grade-A Wagyu, James Beard-approved course for you. And of course there's McConaughey. The film does't work without him. This is a sheer shambles of cinematic poetry that's all McConaughey.