'Glass Onion: A Knives Out Mystery' (2022)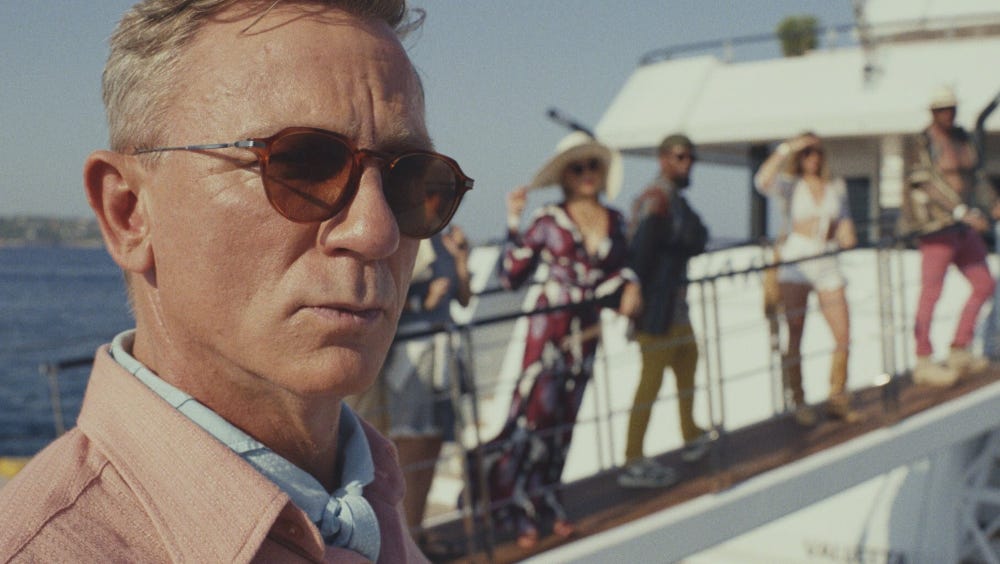 A somewhat cheeky follow-up to "Knives Out," a 2019 whodunit (shot in and around Boston) that was rightly likened to the 1970s classic "Murder by Death." So cheeky, yes, but not on par. Ex-Bond boy Daniel Craig is back as the Clouseau-daffy detective Benoit Blanc, who scores an invitation to a remote Greek Island owned by an Musk-esque billionaire (Edward Norton) to take part in a weekend-long murder-mystery party. Blanc is on point and solves the charade murder in 20 seconds, much to the island owner's chagrin – but there's a real murder when one guest guzzles poisoned whiskey. Among the suspects/guests there's a fetching young woman aptly named Whiskey (Madelyn Cline), Dave Bautista as a gun-waving male-dom influencer, Kate Hudson as the washed-up supermodel unaware of what a sweatshop is, and Leslie Odom Jr. and Jessica Henwick, mostly wasted in roles that feel pushed to the periphery. The last outing made Craig's Blanc the centerpiece; here director Rian Johnson splits time between Blanc and a woman of mystery played by Janelle Monáe, and it's just not as sharp as its predecessor, though the cameos by Hugh Grant, Ethan Hawke and Serena Williams are spikes of punchy good fun. Here's another clue: The walrus was Paul.
'Guillermo del Toro's Pinocchio' (2022)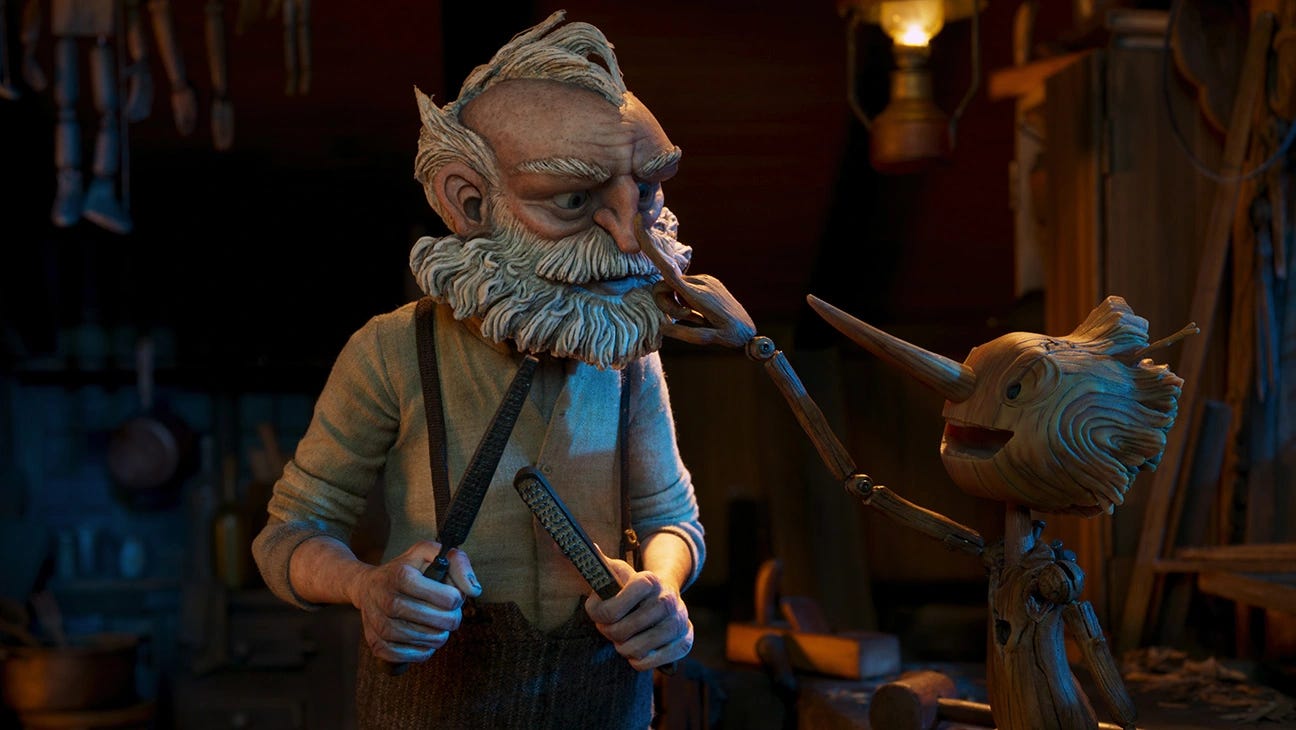 This year we saw Robert Zemeckis' live-action take on Pinocchio with Tom Hanks as the avuncular Geppetto. That Disney reboot of the 1940 animated classic was a bit wooden and too by the numbers; here del Toro ("Pan's Labyrinth," "The Shape of Water," "Nightmare Alley") mixes it up. This takes place in World War II Italy with Mussolini as a puppet fan who actually abhor's Pinocchio's propaganda puppet show turned into a scat fest. Yup, it's that much of a change-up. It's the war that takes Geppetto's boy from him, and a woodland spirit that imbues a wooden puppet with a child's spirit. Del Toro's animated imagining of Pinocchio (voiced by Gregory Mann) is inspired – he's more the raw wood incarnation than the Disney versions. (The name in Italian roughly means "pine eye.") The vast voice talents on del Toro's version include Cate Blanchett as a sphinx-like creature named Spazzatura ("garbage" in Italian), David Bradley as Geppetto, Ewan McGregor in full-on Scottish Brogue as Sebastian J. Cricket and Finn Wolfhard and del Toro regular Ron Perlman as the bad actors trying to ply and exploit the wooden boy. At one point an agent of Mussolini even debates weaponizing Pinocchio. As gonzo as that may sound, the narrative ultimately falls into line. The new ripples are interesting, and there's more life in this one that in Zemeckis', but I still want to know how the grandfatherly Geppetto sired a child at such an advanced age.
RRR (2022)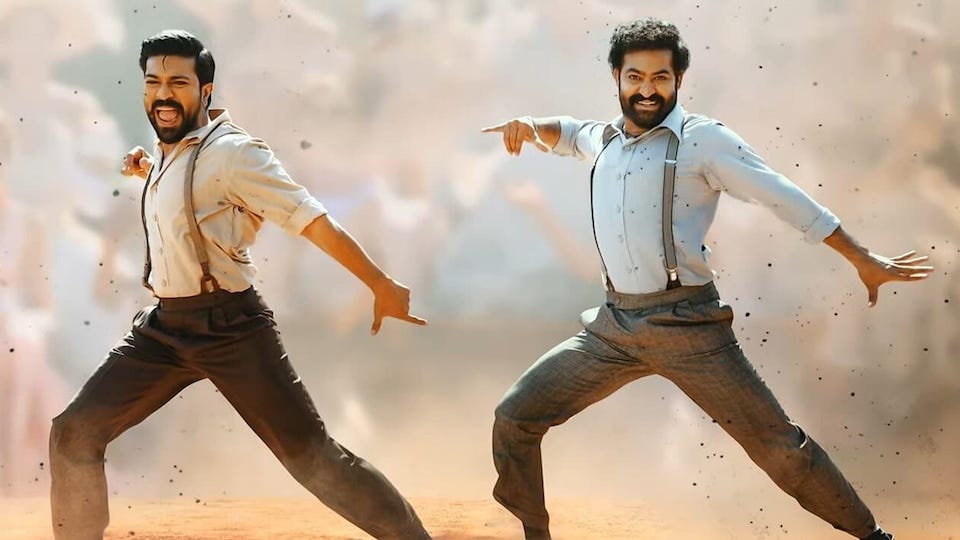 S.S. Rajamouli's three-hour-plus epic is a bold, outrageous spectacle, peppered with thrills, jaw-dropping stunt work, breakouts into Bollywood dance and a poke in the Western eye about the evils of colonialism. The Indian production takes place in the 1920s, when the country was under British rule. Our bigger-than-life heroes come in the form of Raju (the highly charismatic Ram Charan Teja), an Indian soldier under British command, and Bheem (N.T. Rama Rao Jr.), a can-do villager and mechanic whose daughter has been abducted by the British governor (Ray Stevenson). The governor's so hyperbolically nefarious they could have just called him Snidely Whiplash and been done with it, and his wife (Alison Doody) is nearly as nasty; at one point she supplies a torturer with a barbed whip. We meet each protagonist separately, each performing Herculean feats: Raju battling through a throng of hundreds, who hammer and pound him, to apprehend a suspect; Bheem outrunning a wolf and, bare-chested, shouting down a tiger. (The CGI is pretty low budget, but it hardly matters.) Later the two team up to save a boy above a flaming river, but even later in the epic run time find themselves at odds because of Raju's allegiance and Bheem's ceaseless quest to regain his daughter from Raju's higher-up. "RRR" (for "Rise, Roar, Revolt") is astonishingly energetic from start to finish, tongue-in-cheek craziness that sometimes strains but never breaks the wild turning and dropping ride.