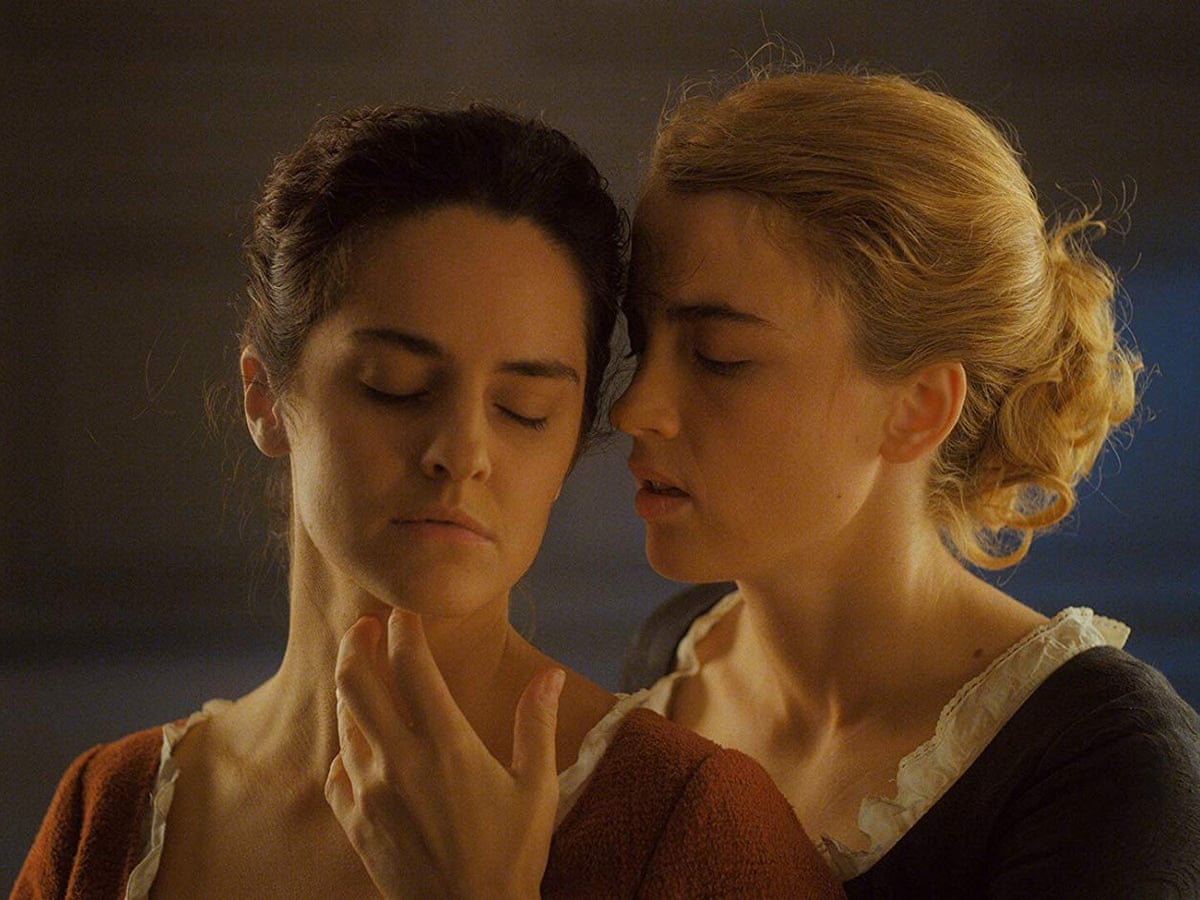 Somber, strong and palpably felt, the staid aura of "Lady on Fire" echoes its setting on the eve of the French Revolution, when maintaining one's posture as a "lady" is practically all society registers. We never drink in that society – though we do feel its effects – and see barely any men. Most of the film takes place in a spare chateau atop the oceanic cliffs of Brittany, where Marianne (Noémie Merlant), a portrait artist, has been summoned to paint the likeness of Héloïse (Adèle Haenel), betrothed by her mother (Valeria Golino) to a Milanese nobleman. The young woman and man of station have never meet. The painting is in essence Héloïse's Match.com profile pic and calling card. So far, par for the course, but there's a few complications: Héloïse's older sister had been promised to the same noble and for reasons never fully illuminated, yet wildly provocative, may have taken her life to avoid the ceremony. Héloïse, next in queue, has vehemently opposed both the painting and the arrangement, making Marianne's task something of a challenge beyond her professional expertise. To circumvent such obstacles, Héloïse's mother suggests Marianne embed herself as companion and something of a handmaiden, employ observation and, later, commit the evocation to canvas when in solitude.
The contrived pairing begins a wary dance that leads to friendship, then a smolder and a spark. Quietly the struggling flame tries to burst forth, but taboo and obligation routinely tamp it down and threaten to smother it. It's a brilliant orchestration of ache, brought outward and made so visceral and consuming by the completely immersive performances by Haenel and Merlant. There hasn't been this kind of slow burn committed to film since "Blue is the Warmest Color" (2013). And as tightly wrapped in the female gaze as Sciamma's inferno of passion is, there's nothing didactic or heavy-handed about it. It's a tale of liberation and rare love etched with promise and hope, yet ever under the baleful tang of doom.
The film, shot by Claire Mathon (who filmed last year's "Atlantics," another compelling French ghost story) is something of a live painting itself, often with the two women in a high-ceilinged studio, hardly talking or moving as the essence of their desire and dread looms as thick and viscous as the daubs of paint on Marianne's palette. And yes, there are turns in the cold vacuous halls where specters from the past rear their heads. It's an emotional journey of two bound by society, but whose love knows no bounds. The final scene is a masterclass in acting and direction; no words are spoken, and it says everything.